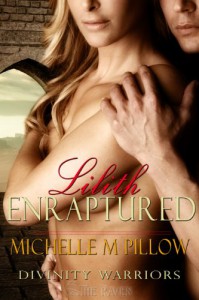 Audio Book Review
Lilith Enraptured is a fine example of awesome world building with a great story and steamy love to go with it. The book starts off as a futuristic sci-fi story, filled with medical and technological advances. Then thrust us back in time to a medieval love story. I loved the warriors of Starian. Loyal and honor bound to fight the ongoing war that is known to their land. They are Alphas all the way. All the know is duty, war and honoring ones family. Too many men in need of a loving woman.
Lilith, taken from all she knew and left to a race of warriors who "claim" their woman in marriage. Yes, I found her whiny at times, but then I know I would be too. She fought a battle within herself, while knowing that was not her home, she couldn't keep herself from loving him. Then the battle became how do you love someone who doesn't know the concept of love.
Sorin, is like a dream on a stick. The perfect Alpha male. He is big and built, a leader in battle, but war is all he knows. He says, the Gods told him that she was the one to be his wife. I believe that it was love at first sight. In a race that in so wrapped up in war and the females a few, preserving the race is a forbearer to love. He had a need to protect her at all cost and I believe that there was more than just duty and honor to it.
I had the pleasure of listing to Lilith Enraptured as an audiobook. I thought it was a pleasant listen. The narrator did a good job delivering this tale. She did a great job of distinguishing who was who and brought the emotions of the written word to life with voice.
Ms. Pillow delivered a great story with Lilith Enraptured. The more I listen to the book the more I wanted to hear. Super steamy love scenes with hot warriors will have you fanning yourself. Yes the book is HOT! A wonderful mixing of genres that gives the reader a very unique world to explore. Well done, Ms. Pillow.
I was given an audio copy of this book from the author for an honest review.
This review is originally post at http://coffeebookslifeblog.wordpress.com/2014/01/19/lilith-enraptured-by-michelle-m-pillow/